Lee Shot Williams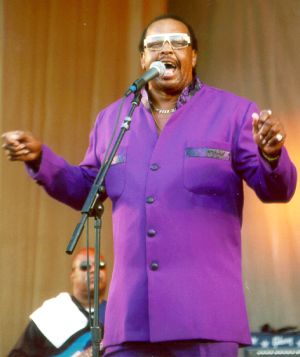 BUY CDS
He was born Henry Lee Williams in Lexington, Mississippi on May 21, 1938.
Henry Lee Williams grew up in the country close to his cousin and fellow blues man, Little Smokey Smothers. He got the nickname "Shot" from his mother at a young age, owing to his fondness for wearing suits and dressing up as a "big shot."

"Shot" moved to Detroit in 1954 and to Chicago in 1958. He joined Smothers there and began singing with Smokey's band in 1960 and a few years later joined Magic Sam's band as a vocalist. In 1962, Williams recorded his first singles for Chicago's Foxy label, "Hello Baby" and "I'm Trying." He recorded a series of singles for other labels, including King/Federal, Palos, Gamma, Shama and Tchula. His 1964 recording "Welcome to the Club" was a hit in Chicago, so much so that it was later covered by guitarist/singer Little Milton for Checker Records in 1965. Another regional hit, "I Like Your Style," came out in 1969 and was later covered by Junior Parker. Several more singles followed including the very popular "Drop Your Laundry Baby".

His first album under his own name, "Country Disco", was released on the Roots label in 1977. In the 1980s, Williams released a slew of singles on labels like Tchula, 4-Way, True & Dis-Muke. He released an album on cassette with many of these cuts called "I Like Your Style". In 1994 the Japanese label Vivid Sound released an album called "A Shot of Rhythm and Blues" containing tracks Williams recorded in Memphis apparently for (but not released by) Quinton Claunch's SoulTrax imprint. The Black Magic label decided to give Lee a "Shot" behind his own band. The result, "Cold Shot" was released in 1995 and was voted the Best Blues Album of 1995 (New Recording - Soul / Blues) by the Living Blues readers' poll. His debut for the Memphis-based Ecko Records, "Hot Shot", brought Williams home to the "Southern Soul Blues" world with the hit "I'll Take The Risk". In 2000 Williams scored another hit with "She Made A Freak Out Of Me", followed by "Somebody's After My Freak". Williams left the label again and recorded one disc for Charles Wilson's label called "Let The Good Times Roll" before returning to Ecko for four more successful albums, establishing him as one of the icons of the genre.
In 2008 Williams signed with CDS Records. His first CD for the label was released in 2008 and produced the hits "It's Friday (Time To Get Paid)" and "Wrong Bed". Two more albums were released by CDS Records, "I'm The Man For The Job" & "The First Rule Of Cheating" in 2010. Williams passed away 11-25-2011.
Album Discography

"Country Disco" (Roots/TK 1977)
1. I'm Willing
2. (I'm So) Afraid Of Losing You Again
3. Making Love Is Really My Thing
4. Country Disco
5. You Can't Hurry Love
6. The Love You Saved
7. I Think It's You
8. We're Gonna Make It
9. Me And My Woman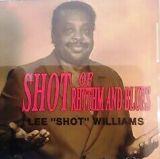 "Shot Of Rhythm & Blues" (Vivid Sound/Soul Trax 1994)
1. Make Me Holler
2. Ace Of Spades
3. You Can't Hide From The Blues
4. My Girl
5. These Blues Are Too Big
6. After Hours
7. Make Me Yours
8. Feel An Urge Coming On
9. Choking Kind
10. Three Into Two Won't Go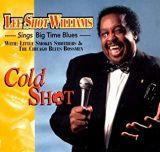 "Cold Shot" (Black Magic 1995)
1. It It Wasn't For Bad Luck
2. Love Is a Cold Shot
3. Drop Your Laundry
4. Boogie Down on the Weekend
5. Drowning on Dry Land
6. I Feel an Urge Coming On
7. High Steppin' Mama
8. Neither One of Us (Wants to Be the First to Say Goodbye)
9. Who Is He Waht Is He to You
10. Don't Let the Green Grass Fool You
11. How Do You Want Your Thrill
12. I'm Tore Up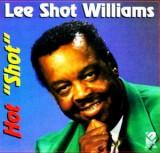 "Hot Shot" (Ecko 1996)
1. I'll Take the Risk
2. Make Me Holler
3. Somebody Took My Girl and Gone
4. Times Are Tough
5. Boogie Down on the Weekend
6. Lovin a Different Woman Ain't the Same
7. I Like Your Style
8. You Made a Believer Out of Me
9. You've Got to Try Me
10. Down in the Hood
11. I'll Take The Risk (remix)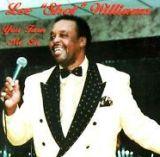 "You Turn Me On" (Diamond Lady 1999)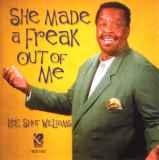 "She Made A Freak Out Of Me" (Ecko 2000)
1. She Made a Freak Out of Me
2. Your Hoochie Boyfriend
3. It's Blues Party Time
4. Somebody Blew the Whistle on Me
5. On the Love Flight
6. I Got What I Wanted But I Lost What I Had
7. Ain't No Heartache Medicine
8. Sure Shot Man
9. Sex Starved Lady
10. Midnight Love
"Somebody's After My Freak" (Ecko 2001)
1. Somebody's After My Freak
2. Do What You Do
3. Let's Party Now
4. Back in Trouble Again
5. Who's Knockin' the Boots
6. I'm Gonna Be the One to Make You Happy
7. Freakology
8. Do We Keep Hanging On
9. Strong Do Cry, The
10. Cheatin' Fever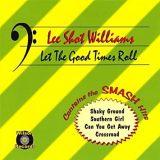 "Let The Good Times Roll" (Wilson 2002) LISTEN
1. Let the Good Times Roll
2. Get Away
3. Ain't Getting No Easier
4. Southern Girl
5. Sex Me Up
6. Ain't No Use
7. Ain't No Woman
8. Shaky Ground
9. Crossroad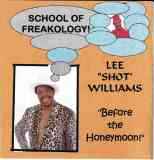 "Before The Honeymoon" (Hot Spot 2002)
1. Freakology
2. Before The Honeymoon
3. Knockin' My Boots
4. Let's Dance
5. Is It Because I'm Black
6. What You Do In The Street
7. Never Gonna Find
8. You Fooled Me
9. Baby By An Outside Woman
10. It Ain't Me No More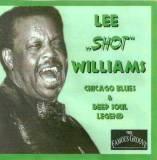 "Chicago Blues & Deep Soul Legend" (Famous Grooves 2003)
Varied collection of blues and soul from this fine performer recorded in the 60s and 70s starting with his wonderful first single from 1962 "I'm Trying/ Hello, Baby" where he is accompanied by Little Mac, Freddy Robinson, Detroit Jr. and others.
1 : I'm Trying
2 : Hello, Baby
3 : I'm Tore Up
4 : They Told A Lie
5 : You're Welcome To The Club
6 : Hold Me, Hold Me, Hold Me
7 : When You Move You Lose
8 : Don't Misuse My Love
9 : The Millionaire
10: I'm In Love
11: I Hurt Myself
12: I Like Your Style
13: I Feel An Urge Coming On
14: You Are My Dream
15: I Found A Love
16: It Ain't Me
17: Baby, Baby
18: Checking Out
19: You Got To Try Me
20: It Ain't Me No More
21: Chokin' Kind
22: Since I Fell For You
23: Are You Leaving Me
24: Drop Your Laundry
25: The Love You Saved
26: On The Love Flight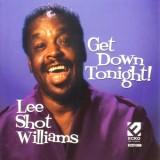 "Get Down Tonight" (Ecko 2004)
1. Get Down Tonight
2. You Got That Voodoo
3. My Kinda Lady
4. Who's Your Daddy?
5. Somebody's Changin' My Sweet Baby's Mind
6. Caught in the Middle
7. Juke Joint Slide
8. Give Me All Your Love
9. Back Door Lover
10. Cheatin' Is a Risk
11. Juke Joint Slide (remix)
12. [remix]
13. [remix]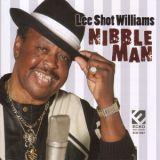 "Nibble Man" (Ecko 2005)
1. Just Another Hole in the Wall
2. Ghetto Party
3. You're Slackin' Up in the Bedroom
4. Ease on Down in the Bed
5. I'm a Nibble Man
6. I Gotta Go Home So I Can Get My Freak On
7. Party Woman
8. Nothing But Party Blues
9. That's Really What the Blues Is All About
10. Ease on Down in the Bed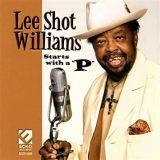 "Starts With A P" (Ecko 2006)
1. Everything I Like to Eat Starts with a "P"
2. You've Been Lying
3. Meat Man
4. It's Your Party
5. Everybody Wants to Go to Heaven
6. You Don't Have to Be a Freak to Do Freaky Things
7. Who's Knockin' Boots?
8. It's Not What You Got, It's What You Do with It
9. I Never Loved a Woman the Way I Love You
10. Why Am I Always at the End of Your Love Line?

Lee 'Shot' Williams "Meat Man" (Ecko 2006) LISTEN
1. Meat Man
2. Secret Love Affair
3. Times Are Tough
4. Make Me Yours
5. I Got What I Wanted But I Lost What I Had
6. I Found a Love
7. Ease on Down the Bed - (live)
8. Midnight Love
9. I've Got a Problem
10. I Ate Too Much Over the Holidays
1. Country Woman
2. It's Friday (Time to Get Paid)
3. Wrong Bed
4. Leaving You Dinner
5. Sexy November
6. Certified Lover
7. Two Steps Forward
8. Dirt Road to Your Heart
9. Shaking Your Tree
10. Catch You in the Truth
1. She Made A Freak Out Of Me
2. I'll Take The Risk
3. Who's Knockin' The Boots
4. Ease On Down In The Bed
5. I'm A Nibble Man
6. Somebody Blew The Whistle On Me
7. It's Your Party
8. Your Hoochie Boyfriend
9. Juke Joint Slide
10. Lovin' A Different Woman Ain't The Same
11. Down In The Hood
12. Cheatin' Is A Risk
13. Who's Your Daddy?
14. Just Another Hole In The Wall
1. I'm The Man For The Job
2. 753 L.O.V.E.
3. 30 Minutes
4. Yesterday I Fell In Love
5. You're Welcome To The Club
6. It Ain't Me No More
7. Got A Good Woman
8. Are You Leaving Me For Another Man?
9. Easy
10. Lifting Up The Name Of Jesus
11. Yesterday (Extended)
1. It Don't Take All Night
2. Get Up Get Funky Get Loose
3. You Turn Me On
4. I Hurt Myself
5. (Sleeping In The) Wrong Bed
6. The First Rule of Cheating
7. You Fooled Me This Time
8. You Can't Hide From the Blues
9. Cry To Me
10. I've Got So Much To Give