Lil' Fallay aka Uncle Fallay
C hristopher John Andrus aka "Lil Fallay" aka "Uncle Fallay" was born in 1962 in Lafayette, Louisiana.

Fallay appeared on two singles before his first Southern Soul release, "Dreams Do Come True". One single was with a group called Future while the other single was a birthday song with a group called Pressure.
"Dreams Do Come True" was released in 2001 and is considered bu it's creator to be "swing out music".
Album Discography

"Dreams Do Come True" (Lil Fallay Boy 2001)
1. Swing It
2. Get My Freak ON
3. Scared Little Girl
4. Interlude (My Request)
5. Dreams Do Come True
6. Interlude (My Prayer)
7. Uptown Coolie Brown (old school funk)
8. Lil Fallay Love's To Party
9. Cruel
10. I'm Coming Home (wait for me)
11. Slow Ride
12. Soutern Kind Of Groove (radio show)
13. Southern Kind Of Groove (intrum.)
14. Interlude (My Thanks)
"Taste Me" (Lil Fallay 2002)
1. Intro: Sett It Off
2. Just Want Give In
3. Can I Dance With You
4. Nu Thang
5. I Take That Back
6. Taste Me
7. Lil' Fallay's Rap (interlude)
8. Swing It (revisit)
9. Spank It (durty South Slide)
10. I Don't Wanna Be Alone
11. Come Back
12. Just Want Give in (dance Mix Bonus Track)
13. Thank You (spiritual Iterlude)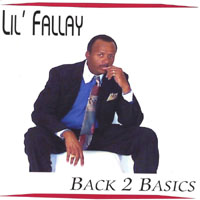 "Back 2 Basics" (Lil' Fallay 2003)
1 Inter-Lude
2 Gotta Find Me an Angel
3 (There's) Something I Need to Tell You
4 I Want to Be Your Man
5 Betcha Don't Know
6 Celebration of Love
7 Can You Hear the Rain
8 I Got Dat (That)
9 (Reflections)
10 Love of My Life
11 Change Gonna Come
12 Back 2 Basics
13 A Mother's Love
14 Gotta Find Me an Angel
15 Outer- Lude
"Follow My Lead" (Hot Like Fire 2004)
1. My Baby's Magic
2. Don't Walk Away
3. Let's Swing Again
4. Long Time Coming
5. Farewell (song)
6. Missing You (radio)
7. Follow My Lead
8. I'm Coming Home (wait for me)
9. Juke Joint (boogie)
10. Missing You (dance mix)
*** If I were pressed to make a mixtape to show somebody what modern Southern Soul sounds like I'd have to include a track by Louisiana's Lil' Fallay aka Chris Andrus, the self-described "swing out guru". "Follow My Lead" shows he's a master of "swing out" (or "two step") music with an album's worth of goodtime,"party blues" expertly produced/programmed by hisself, Donald Jenkins, Tony Lea & Ves. Fallay has a yearning, yet restrained voice that coasts atop these midtempo grooves like he's swingin' out himself while laying down his vocals. He'd have to be movin' something 'cuz this is catchy stuff here. As I type I catch my toes tappin' as the smooth "Don't Walk Away" plays. Feel good music indeed and therein lies the appeal. On "Let's Swing Again" he says "So much weight on our shoulders/We need a release/So call the babysitter/'Cuz tonight's about you and me/I still hear the music like Marvin Gaye, Frankie & Maze/They all kept us swingin'/How I miss those days". How can you argue with that? There you have it. "Follow My Lead" has several should-be hits like "My Baby's Magic", "Missing You" and the aforementioned jams. So for a good time call...but seriously, contact Hot Like Fire Management at hotlikfire2k4@yahoo.com and have some fun.
"Just For The Ladies" (Hot Like Fire 2007)
1. Count Down (In-tro)
2. One 4 Da Ladies (V Mix)
3. They Trying 2 Stop Da Party (Radio)
4. Chill
5. I Wanna Make Love (2U)
6. Dream Lover
7. Cruel
8. Up- N- Da Club
9. Zydefunk Slide
10. Summer Tyme Lady
11. Ceebration of Love
12. One 4 Da Ladies (Radio)
13. They Trying 2 Stop Da Party (V Mix)
14. Just For The Ladies (Out-tro)
*** Don't worry, Lil' Fallay's "Just For The Ladies" isn't just for the finer half of our species but rather a well produced "party Blues" disc for all y'all. The first single, "One 4 The Ladies", is already turning out to be Fallay's biggest hit to date. A danceable, shuffle bumper featuring perfectly-arranged vocals and a vibe not far removed from R. Kelly's greater moments. The similar "They're Trying To Stop My Party" should be hit number two. Further soundtracks for the feet (and booty) are "Up N' The Club", "Zydefunk Slide" & "Dream Lover" while smooth, slow Contemporary R & B jammies like "Chill", "Cruel" & "Summer Tyme Lady" are as good as any you will hear this year. There really isn't a single track that is useless (unusual for this genre). "Ladies" is already Fallay's fifth full length released on the independent tip so Fallay has built his own cult following the hard way- with shoes and self promotion. May only be a matter of time before his sound breaks mainstream. Perhaps "Zydefunk Slide" could following in the steps of Cupid's current phenomenon "Cupid Shuffle"? Whatever the case this disc could be the springboard to better days for the Louisiana native.
"Strong Enough (A True Story)" (Hot Like Fire 2009)
1. Love Under Arrest
2. Good Night for Dancing
3. Strong Enough (A True Story)
4. Dance, Dance, Dance
5. Monkey See Monkey Do (Monkey Get in Trouble 2)
6. Bone It Like You Own It
7. Be Honest
8. Come Go With Me (2 Louisiana)
9. Inter-lude (My Swagger)
10. My Swagger
11. Re-dedicated (Inspirational Song)
12. Love Under Arrest B mix Bonus Track
13. Love Under Arrest V mix Bonus Track
"Lucky #7" (Hot Like Fire 2010)
01- Uptown Coolie Brown
02- Par-Ta Remix
03- My Lady
04- Interlude (My Request)
05- Hard Time (featuring Joyce Sorrell)
06- Interlude (My Prayers)
07- Lucky #7 (featuring Lil' Nate & "D" Cross)
08- Eyes On the Prize (featuring Mel Waiters)
09- Love Will Never Change (featuring Andre Lee)
10- Par-Ta
11- True Love Blues
12- True Love Blues (instrumental) (featuring Kent August)
13- Southern Kind of Groove (featuring Lazaro Nettles)
14- Outerlude (Thank You)
15- My Brother's Dedication
16- The Undisputed Guru of Southern Swing