Luther Lackey
Clarksdale, Mississippi artist Luther Lackey first showed his talents as a "Soul Country" artist before going "Blues" and Southern Soul. Mister Zay scored a hit with the Lackey-penned "She Only Wants To See My On Friday" while Lackey himself scored a hit himself with "Scared Of Getting Caught". He next signed with Memphis-based Ecko Records, charting regionally with "I Should've Stayed Scared" and "It Ain't Easy Being The Preacher's Wife". The latter was a sequel to "Forbidden Love", a song he wrote for artist Vick Allen. He's also written songs for "pretend" brother O.B. Buchana.
Album Discography
"I Thought I Married A Fool" (Luther lackey 2000)

"Down South Funk" (Lulack 2002)
songs include....I Smell Funk, Your Love, Big Daddy, She Only Wants To See Me On Friday, I'm Going Home, I'm So Glad He Was Born...
"I'm Talking To You" (Goodtime 2005)
1. Hell in the Bed
2. Freak at the House
3. Scared of Gettin' Caught
4. Thang Played With
5. Call Your Outside Woman
6. Two Minute Man
7. She Only Wants to See Me on Friday
8. I'm Going Home
9. Knock the Dust Off
10. She Cheated, She Lied
11. Can I Tap That?
12. Lips That Don't Speak
13. I Smell Funk
14. Trapped in the Walls
15. I'm Talking to You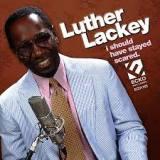 "I Should Have Stayed Scared" (Ecko 2007)
1. Yo Dog (Ate My Cat)
2. Number Two
3. I Don't Care Who's Gettin' It
4. I Should Have Stayed Scared
5. Blues Is Alright, The
6. New Orleans Blues, The
7. Leave Home Kind of Love
8. Like That
9. She's Tired of Me
10. Let It Go
"Jody's Got My Problems" (Ecko 2009)
1. Intro-Mama Southern Soul
2. Jody's Got My Problems
3. Can't Read Your Mind
4. I Can't Get Back into the House
5. Get out of My Bed
6. I Thought the Baby Was Mine
7. Mama at the Drive Through (Skit)
8. Dip and Roll
9. Dirty Heffa
10. Mama Where Are You? (Skit)
11. Let Me Get in It
12. Talking on the Telephone
13. Get out of My Bed [Dance Mix]
14. Mama Southern Soul (Outro)
15. Please Mr. Bootleg

"The Preacher's Wife" (Ecko 2010)
1. It Ain't Easy Being The Preacher's Wife
2. Fake It Til You Make It
3. If She's Cheatin' On Me I Don't Wanna Know
4. She's Good To Me
5. I Got Caught Butt Naked
6. What It Takes To Get Her Is What It Takes To Keep Her
7. Your Change Will Come
8. Meat Man
9. Man Up To It
10. Kind Of Love That Lasts, The
11. Mister Can I Shine Your Shoes
12. I Got Caught Butt Naked (Part 2)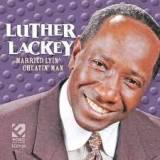 "Married Lyin' Cheatin' Man" (Ecko 2011)
1. Rebound Love Affair
2. Married Lyin' Cheatin' Man
3. If We Ain't Gonna Break Up
4. I Ain't Scared No More
5. Talkin' On The Telephone
6. Hopper Grass
7. If She's Cheatin' On Me I Don't Wanna Know
8. Caught Between Two
9. Could She Be The One For Me
10. The Blues Is Alright Because Of You
11. Hold My Mule
12. Big Bosomed Woman
13. Get Out Of My Bed
14. Could She Be The Woman Of My Dreams
15. I Don't Care Who's Gettin' It
"The Contender" (CDS 2012)
1. Blind, Blind Snake
2. We Got To Work It Out
3. I Think She's Cheating
4. Thang (Ain't Everything)"
5. Just Because He's Preaching
6. Cleaning House
7. I Don't Wanna Go Back Home
8. I Got Scared Again
9. Reap What You Sow
10. When I'm Gone
11. Just Because He's Preaching (Extended)
12. Blind, Blind Snake (Long Version)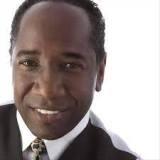 "Call Me" (Luther lackey 2018)
Digital only album
1 News Flash
2 Preacher Car in My Yard
3 Call Me
4 Hide and Seek
5 Booty Clap (On the Dance Floor)
6 Groove On
7 Mega Fine
8 (Please) Gimme Some
9 Walk Widdit !!!
10 Still in Love
11 D J Goodfoot
12 Two Headed Woman
13 I Don't Wanna Be Alone
14 She Only Wanna See Me on Friday