Stephanie Pickett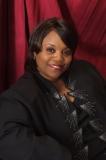 BUY CDS

Stephanie Pickett was born March 19, 1967 in Montgomery, Alabama and grew up with a love for music at the age of 9 years old. She sang in the choir in Elementary, Junior High, High School, and also in College (Alabama State University) where she majored in Music (Vocal). In college, she toured Cincinnati, Ohio, and New York, New York where she received a chance to sing at the Apollo Theater with the University Choir. Later, she left school and became very involved with several Church Choirs where she was one of the main soloists. In order to gain more exposure, she became one of the background singers for the Blues Artist, Ronnie Lovejoy. It was one of her most enjoyable times in music. She thought that it couldn't get any better than that until she was asked to be the female singer for the Style Band where she received the most exposure. She served as the Band Leader for the Style Band for over 14 years where she experienced the opportunity as a singer, songwriter, and entertainer.

She has opened up for several Blues Artists such as Peggy Scott, Clarence Carter, Donnie Ray, Kenny Wayne, O. B. Buchana, Denise LaSalle, Willie Hill, and Theodis Ealey.

Stephanie is not only a singer but a true entertainer (performer) whether she sings to a small or large, young or old audience; she always captivates the crowd and gives it to them from a Big Girl's Point of View with a Down to Earth attitude. She is referred to as "Da Queen of Soul" and she aims to give the people what they want!

Stephanie gives all praises to the Almighty God who blessed her with her God Given Gift of Singing. She also gives credit for her success in Singing to her grandmother, the late Mrs. Lucy E. Stackhouse who was very instrumental in Stephanie's life and always encouraged her to let her gift make room for her blessing.
To Book Stephanie email: jspicket@yahoo.com
you can also call CDS Records at 760-710-7188
Album Discography

"Finally Made It" (Aviara Music 2009) LISTEN
1. Still Want You Baby
2. Family Man
3. Let's Get It Together
4. Love Me Right
5. Money Talk
6. Time Heals All Wounds
7. I'm in the Right Mood
8. Can't Get You off My Mind
9. Run'n
10. Stay with Me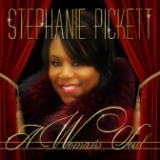 "A Woman's Soul" (Aviara Music 2011)
1 I'm Takin' My Man Back (Club REMIX)
2 We're Gonna Swing Out
3 My Love Is Guaranteed
4 Lie To Me
5 Too Many People
6 Only Time I Get Lonely (REMIX)
7 Save Our Love
8 Cart Before The Horse
9 I Always Get The Best Man
10 When Will You Leave Her?
11 Only Time I Get Lonely (Club Version)
12 I'm Takin' My Man Back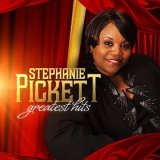 "Greatest Hits" (CDS Records/Music Access 2015)
1. I Don't Need No Man
2. The Only Time I Get Lonely
3. My Love Is Guaranteed
4. Family Man
5. Run'n
6. I'm Takin' My Man Back
7. What One Man Won't Do
8. Too Many People
9. Still Want You Baby
10.Stay With Me
11.Lie To Me
12.Time Heals All Wounds
13.Let's Get It Together